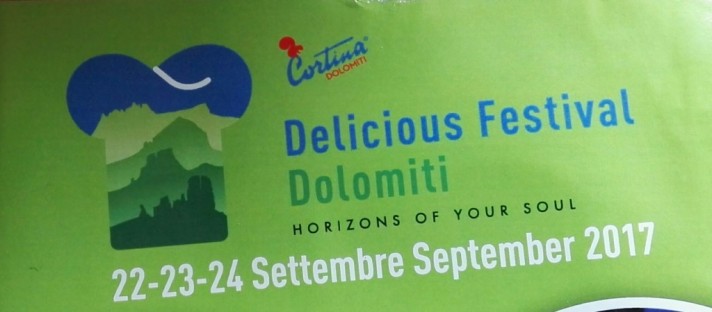 TRA SPORT, HISTORY AND FOOD

FRIDAY 'September 22

18.00 Evening with Guiede Alpine Cortina at the PALA DELICIOUS in Pocol.

Saturday, September 23

HOURS 8:00 Departure Delicious Delicious Short Trail Dolomites and the Dolomites Trail

HOURS 8:00 to 9:00 Delicious Home Mini and Mini Trail Deicious Climbing

11.30 Restaurant and Bar Open to everyone at PALA DELICIOUS in Pocol

AT 18.00 the race Award

21.00 PARTY WITH DJ open to everyone until late at night.

Sunday, September 24

10.00 am Before Climbing Race edition Couples at 5 Towers with Alpine Guides of Cortina

Saturday, September 24 kicks off the second edition of Delicious Trail Dolomiti, non-competitive trail race that takes place in one of the most beautiful places in naturalistic and rich history of Cortina d'Ampezzo.
The paths are two, Delicious Trail Dolomites about 37 km with 2550 d + and Short Delicious Trail Dolomiti 21 km 1400 + d.
The trails wind through Pocol, Croda Da Lago, 5 Torri, Nuvolau, Averau Lagazuoi and Falzarego, and through the open-air museums of the largest museum of the Great War fought at high altitude in the Dolomites.

What makes it really unique is the Trail Delicious food and wine aspect enhancement. The high quality food and care of the service of the organizers of the race are the pride of the tourist offer of the Lagazuoi 5 Torri Giau, engaged in a continuous search for improvement both in terms of structures, that of gastronomy that safeguard environment.
In the dining and the final party to be held in Pocol (point of arrival and departure) you can taste special dishes prepared by the chefs of the restaurants and shelters involved.

PALA DELICIOUS open to all! A Pocol in the day you can enjoy all day special dishes prepared by the chefs of the restaurants and shelters involved.

REGISTRATION AT THE SITE https://www.enternow.it/iol/index.jsp?idms=628

have fun with our employees with gymkhana, games, treasure hunting and climbing in the climbing gym with the Guides for the children on the day of the race is organized the MINI DELICIOUS TRAIL Dolomites and a MINI DELICIOUS CLIMBING where children aged 4 to 12 years Alpine Cortina
Reservations and information:
segreteriafairplay@gmail.com
Tel. 0436-830005 - Tuesday and Thursday from 10.00 to 12.00 and on Wednesday and Friday from 16.00 to 18.00.

Site - www.delicioustrail.it